Tony Maws' Winter Fruit Crisp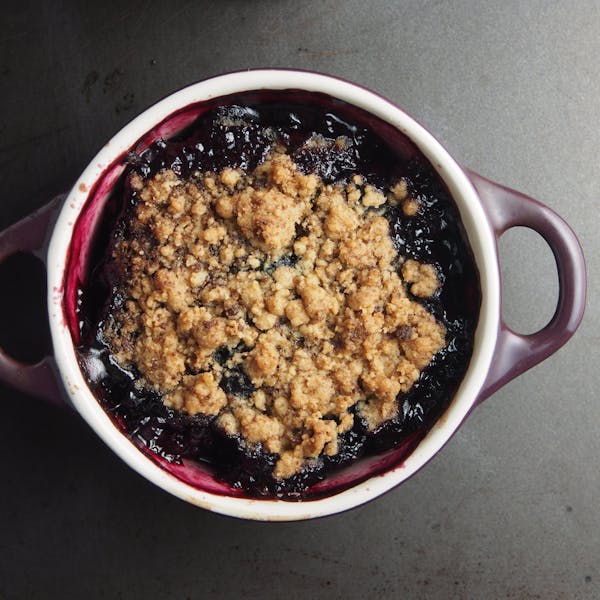 The secret to this crisp recipe is to hardly ever use the same fruit– we start with whichever fruits look particularly good and go from there. Use this version as a guide, but feel free to be inspired by what's on offer at your local farmers' market or grocery store. Note that dried fruits are very sweet and you'll want to use less sugar as you use more fresh fruit.
TOPPING:
2 3/4 cups all purpose flour
1/2 cup light brown sugar
1/2 cup Demerara sugar (natural, unrefined brown sugar available in most specialty shops)
1/4 cup granulated sugar
1/2 lb butter, softened
Pinch of salt
1 1/2 cups toasted chopped walnuts
FILLING:
1 1/2 cups dried fruit (such as apricots, rasins, pears, prunes and cranberries)
Port
1 pint fresh blackberries3 ripe pears, diced
4 ripe apples, diced
1/3 cup sugar
3 tablespoons calvados
4 tablespoons flour
Pinch of salt
The night before serving, cut the dried fruit into raisin-sized pieces and pour enough boiling port over the fruit to cover. The fruit will absorb the port, and any leftover fruit will only get better over time.
To make the topping: Sift first four ingredients through a sifter. Work the butter into mix a little bit at a time. Gradually add the walnuts.
To make the filling: In a bowl, combine the dried fruit, blackberries, pears, apples, sugar, calvados, flour and salt. Toss well to combine. Preheat oven to 350 degrees.
Put the filling in a buttered pan just large enough to hold all ingredients. With your hands, spread an even layer of crisp topping over the fruit, using enough so that no fruit shows through the topping. Bake, uncovered, until topping is an even golden-brown throughout and the fruit is cooked – from one to two hours. Serve with vanilla ice cream.
Notes: Serves 8-12. Any extra topping mix can be stored in fridge for up to a week and used on any type of crisp or brown betty. Substitute any light brown sugar for Demerara if necessary.