Potato-Celery Root Latkes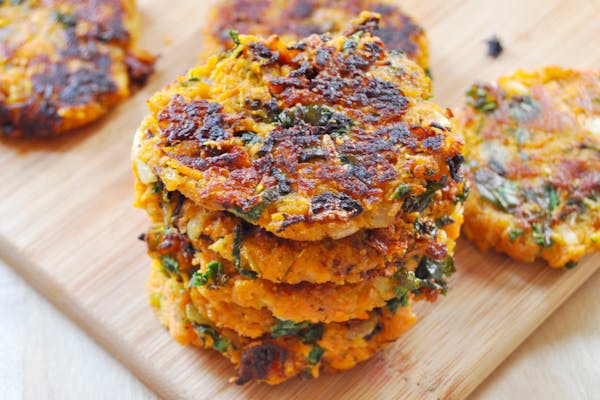 150g Celery root
300g Squeezed potatoes (roughly 4 potatoes)
25g Matzo meal powdered
25g Whole eggs
45g Schmaltz onions
.75g% salt
Pepper to taste
Set plancha to 400F
Directions:
1 Do potatoes last. They will turn brown and oxidize.
2 Sweat julienne onions in Schmaltz; cool.
3 Grate peeled celery root through cheese grinder in robot coupe.
4 Buzz matzo crackers or meal in blender till powdered.
5 Mix eggs with whisk.
6 Peel potatoes and grate same as celery root.
7 Squeeze water out of potatoes.
8 Weigh potatoes after water weight is lost.
9 Weigh to find salt percentage.
10 Mix all ingredients together by hand.
11 Portion to 70g balls.
12 Flatten and crisp latkes on plancha with schmaltz.
13 Lay out on a rack to dry and cool.
14 Do a tester to check for taste/cook and shape.